This evening, Darren Shan paid a dread-filled visit to MMU's Geoffrey Manton building to talk about his latest book series, Zom-B, a fun-filled epic which deftly balances political commentary with excessive gore and zombies. Shan kicked off the event by reading the prologue of the first book in his Zom-B series, which is titled Zom-B."Politics are good, but zombies are better," he said, before he started reciting the extract.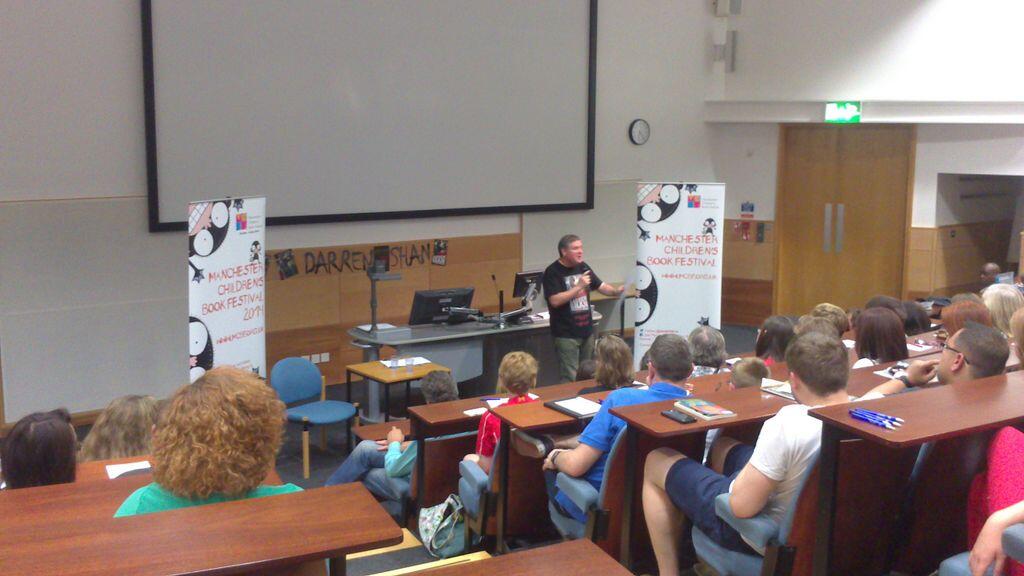 The reading was filled with gore, horror, and humour, and was made more engaging by Shan's voice acting. He also spoke at length about a book series he wrote before Zom-B, which is titled the Demonata Series. Darren Shan claimed he often liked to write about different creatures, but put his own fresh spin on them.
After speaking about his body of work, there was a question and answer session. A lot of interesting questions based around Shan's books were asked, and also various questions about horror literature, film, and television. During this session, Darren Shan spoke about the way in which he writes his books. "I had to finish the last book far ahead of schedule," he said, claiming this was to ensure the books could be released within a few months of each-other. He was also asked how he comes up with the plot twists in his books, to which he replied: "I try not to think about the public, and what they want."
Soon after, Shan went on to read an extract from the Demonata series, which was very suspenseful, gory, and of course, filled with horror. Shan's stories are very engaging, and the way he delivered each passage of his prose was entertaining and witty. The event had an incredibly good turnout.
When it had finished, there was an opportunity for the audience to purchase several of Darren Shan's books, including any of the novels from the Demonata Series, and the Zom-B series. Shan was also present to sign books, and for pictures.
During the event, there was also another sea-monkey raffle, which was set up to raise money for Readwell, a charity which provides literature for children who are terminally ill.
This event was hosted in partnership with the Manchester Children's Book Festival, and the Manchester Centre for Gothic Studies.